At Experian, one of our priorities is consumer credit and finance education. This post may contain links and references to one or more of our partners, but we provide an objective view to help you make the best decisions. For more information, see our Editorial Policy.
If you're looking for your first credit card, you could start by trying to get a credit card that's created for people who are new to credit or rebuilding their credit. These cards often don't come with a lot of benefits, but you can use them to establish and build good credit before applying for a different credit card later. Here are four of the best options from our partners.
Our Picks for the Best Credit Cards for Beginners

The OpenSky® Secured Visa® Credit Card

$35 annual fee

$200 minimum security deposit
Best Secured Credit Card That Doesn't Require a Credit Check: The OpenSky® Secured Visa® Credit Card
The OpenSky® Secured Visa® Credit Card stands out from other cards because it doesn't require a credit check. It can be a good option for someone who is having trouble getting approved for a card due to their lack of credit history. It's also popular among people who have bad credit and are rebuilding.
Additionally, the card is available without the need for a bank account—a requirement with many secured credit cards. You can send the refundable security deposit (there's a $200 minimum) by mailing a check or money order, or using a Western Union wire transfer. Once you open an account, your credit card account and payments will be reported to the three major credit bureaus (Experian, TransUnion and Equifax).
The primary downsides are the $35 annual fee, lack of rewards and 3% foreign transaction fee. If you don't mind the credit check and have a bank account, a different secured or unsecured card may be a better pick.
Read full review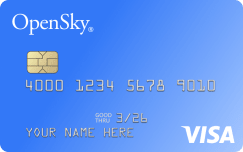 The OpenSky® Secured Visa® Credit Card
Apply
on Capital Bank N.A.'s website
Recommended FICO® Score*
Poor, New to Credit, Rebuilding
The OpenSky® Secured Visa® Credit Card
Card Details
No credit check to apply. Zero credit risk to apply!
Looking to build or rebuild your credit? 2/3 of cardholders receive a 48+ point improvement after making 3 on-time payments
With an 87% average approval rate for the past 6 months, OpenSky gives everyone an opportunity to improve their credit
Extend your $200 credit line by getting considered for an unsecured credit line increase after 6 months - no additional deposit required!
Get free monthly access to your FICO score in our mobile application
Build your credit history across 3 major credit reporting agencies: Experian, Equifax, and Transunion
Fund your card with a low $200 refundable security deposit to get a $200 credit line
Choose the due date that fits your schedule with flexible payment dates
Fund your security deposit over 60 days with the option to make partial payments
Join over 1.2 million cardholders who've used OpenSky to build their credit
How Old Do You Have to Be to Get a Credit Card?
You have to be at least 18 years old to open a credit card on your own. If you're younger, a parent or other relative may offer to add you as an authorized user on one of their cards. Being an authorized user might help your credit, but the account won't be in your name.
If you're under 21 years old—even if you're a full-time student—the federal Credit CARD Act requires you to have enough independent income or assets to afford the card's minimum payment. (You'll provide your income on the credit card application.) You'll also need enough income or assets to support a higher minimum payment if you want a credit limit increase.
The independent income could be from a part- or full-time job or a regular allowance that a relative sends. However, unless someone cosigns your credit card application (which often isn't an option), you can't include their income.
Once you're 21 or older, you can include another person's income on your application if you have a reasonable expectation that you can access the funds. A common example is a stay-at-home spouse who uses their working partner's income to qualify for a credit card.
What to Know Before Applying for Your First Credit Card
You may want to learn the basics about how credit cards work before applying for your first card. While credit cards can be helpful tools, some people end up carrying a high-interest balance after opening their first card and overspending. Ideally, you should use the card like you would a debit card and only make purchases that you can afford to pay off in full when the bill arrives each month.
If you've taken out a loan before—including student loans—or previously opened a credit card, you might already have a credit report. You can try to check your Experian credit report and your FICO® Score☉ based on the report for free.
If you have good credit, you may qualify for cards that offer more benefits or don't require a security deposit. But if this credit card is your first credit account, you likely won't be scoreable, and you may want to start with one of the credit cards for beginners. In either case, review the card's fees and benefits before applying.
It generally takes about 30 to 60 days for your new credit card to appear in your credit reports. And, it may take up to six months before your account makes you eligible for a FICO® Score. The credit card can continue to affect your credit scores for years to come—even if you close the account.
Paying at least your minimum monthly payment on time can help you build a positive credit history and avoid late payment fees. Ideally, you can also pay the bill in full each month to avoid interest. Only using a small portion of your credit limit can make this easier. And, it will lead to a low credit utilization ratio, which can also help your credit scores.
Keep Building Good Credit
Once you've established your first credit card account, look for ways to continue building a good credit history. An excellent score can make it easier to qualify for credit cards and loans with favorable terms. It could even save you thousands of dollars on auto loans and mortgages.
In addition to opening new credit accounts, you could use Experian Boost®ø—a free and easy way to potentially build credit. After signing up, you can connect your online bank accounts and add utility, telecom and popular streaming service payments to your Experian credit report. Your on-time payments can help boost your credit without you having to take on any new payments or debts.